Gas nitriding/gas nitrocarburizing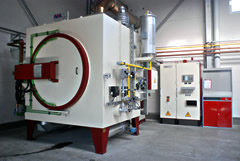 Gas nitriding/gas nitrocarburizing means case hardening through thermochemical enrichment of the case with nitrogen/nitrogen-and carbon.
The advantages of gas nitriding:
Increased abrasion resistance as a result of higher hardness and strength of the case
Reduction of the friction coefficient and thus
improved gliding properties
Reduced adhesion to wear partner
Reduced reactiveness to surrounding reactive agents
Minimum dimension change and only slight form change
High surface hardness with suitable materials
Powerful facilities with dimensions of up to 1200x900x900 mm are available for gas nitriding/gas nitrocarburizing. The thermal treatment facilities are equipped with the most modern control technology, which ensures the reproducibility of all processes.
Gas nitriding of high-alloy steels is also possible with the Citrox method and your components can be oxidized/blackened after thermal treatment.
Capacity/sizes:
Components/workpieces with dimensions of up to 1200x900x900, maximum batch weight 1500kg, larger series, individual parts, components with special dimensions.
Suitable for all materials that can be nitrated, e.g. 1.7225, 1.4034, 1.7131, C45, 1.7707…
The facility can also be used for hardening and tempering up to 740°C as well as for annealing larger parts and/or quantities, e.g. made of C45, St37k…