Joining technology - brazing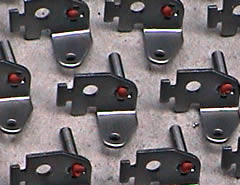 Soldering is a veritably versatile method for joining components and indispensible in today's technology. Many applications are possible in the first place through modern joining technology like brazing. This results in connections that partially exceed the strength of welding connections because intense diffusion and alloying mechanisms take place during soldering.
Brazing can be performed under vacuum and shield gas atmosphere as well as inductive and with flame.
Capacity, sizes:
Components/workpieces with dimensions of up to max. Rd. 600x600
Batch documentation/thermal treatment diagrams.
Application fields:
Especially suited for complex parts like devices, stamps, levers, guides and aerospace components (Ti materials)